12 Epic Places To Go Glamping in Nevada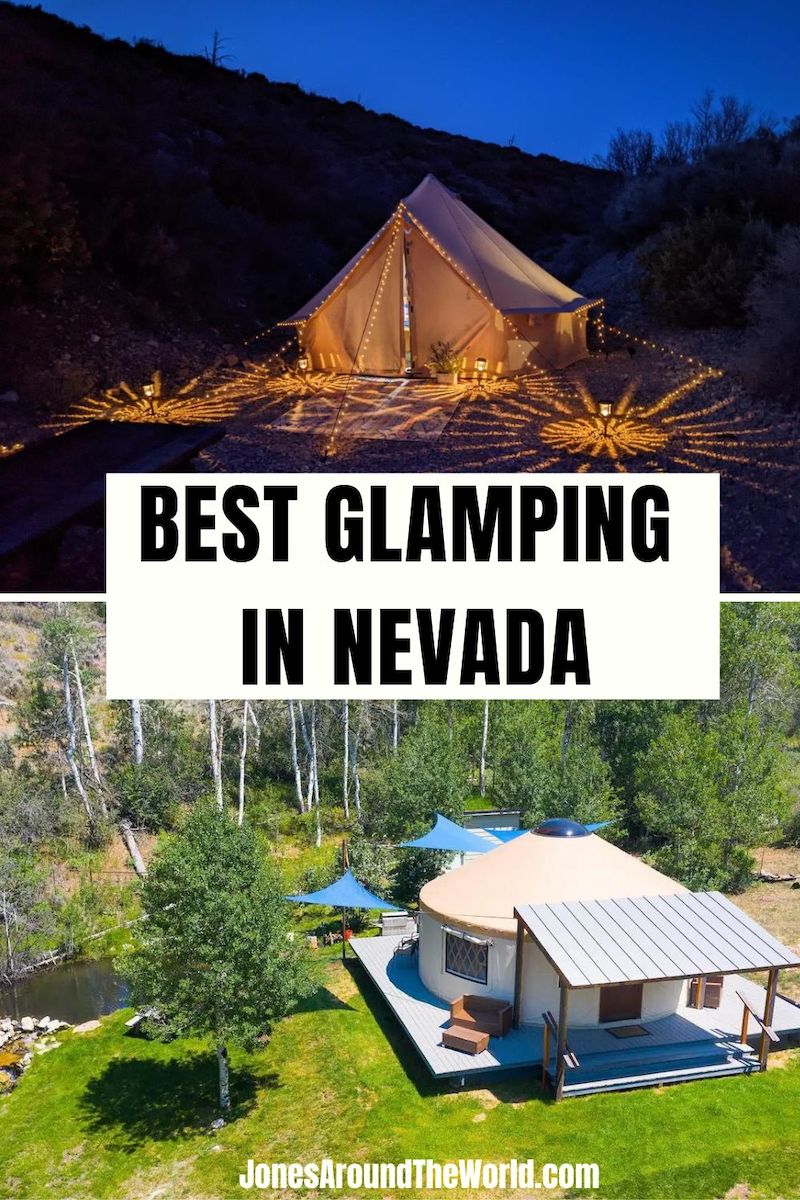 Planning a trip and looking for some Glamping Nevada destinations? Well, look no further, as I've put together this incredible guide to all of the best Nevada glamping hotspots! 
What comes to your mind when you think of Nevada? Las Vegas? Yes, ours too! But that's not all that there is about Nevada. From forested mountain slopes to stunning desert scapes, Nevada has it all! With 80% of its land publicly owned, you can truly call this state yours. There is no shortage of activities to do in Nevada with hiking, camping, ATV riding, horse riding, and watching rodeo games to name a few.
Now, if you want an opportunity to camp under the stars, watch sunsets and sunrises, stay on a ranch, or simply experience the west at its best, you have to try glamping in Nevada! Glamping not only brings you close to nature but pulls you away from the rush of life. It slows you down!
Wondering about your options for glamping in Nevada? Don't worry, we have got you covered! Below is a list of some amazing glamping places that we have shortlisted after intensive research. Hope you like them!
---
Quick Breakdown Of Nevada Glamping
Before you dive into the full blog, we have a quick breakdown of some best places in various categories. Take a look!
Overall Best Glamping in Nevada – Glamping Adventures LV
Best Affordable Glamping in Nevada – Lakeview Desert Oasis Glamping
Best Yurt Glamping in Nevada – Conrad Creek Yurt
Most Adventurous Glamping in Nevada – Ruby High Yurt
Most Fun-packed Glamping in Nevada – Las Vegas Mountain Retreat Glamping
Most Luxurious Glamping in Nevada – Tipis by Mustang Monument
But be sure to read through the entire article for more amazing options to add to your glamping bucket list!
---
12 Incredible Places For Glamping In Nevada
Alright, let's dive in! From tucked away glamping tents in the mountains, charming creekside yurts, and secluded desert tiny homes – I guarantee you'll find an amazing glamping retreat here in this guide!
---
1) Glamping Adventures LV
Where: Las Vegas, Nevada
Price: $199+ per night
Located in Southwest Las Vegas, and boasting incredible views of mountains and nature, this property is set in a unique landscape, completely different from the typical Las Vegas scenery. What's more, you can choose from a nature view, mountain view or a secluded campsite!
The bell tent is luxurious, eco-friendly, and fully furnished with a bohemian theme. It features a carpeted fire-retardant interior, a queen bed with a memory foam mattress, warm blankets, sleeping bags/blankets for extra warmth, plush chairs, dishware, a K Cup coffee maker, and an HD projector. There is a private portable flushable bathroom with an on-demand hot water shower. Towels and toiletries are provided. Outside, there are 2 anti-gravity chairs, a hammock, cornhole, a fire pit, a BBQ grill, and smores. Perfect to make your evening memorable!
This place is great for stargazing and looking at galaxies using a telescope. Multiple hiking tours and off-road adventures can be undertaken from the campsite. Mandalay Bay Convention Center, City Center Las Vegas, Bellagio Conservatory and Botanical Gardens, and Shark Reef Aquarium are 11 km away.
---
2) Lakeview Desert Oasis Glamping
Where: Fallon, Nevada
Price: $76+ per night
Experience this lakefront camping that offers 360-degree views, and provides access to the historical Soda lake and the horse and OHV trail system. You can enjoy lake kayaking, SUP boarding, or fly kites in the windy hills nearby. You can also take a 3.1 mile hike around the lake.
Inside the canvas tent, you will find a queen bed with a memory foam mattress, a propane heater, a small table, and a water carrier. Outside the tent are 2 Adirondack chairs, a camp table with storage for dishware, utensils, grill tongs and brush, etc., 2 benches, a campfire grill, and a fire pit. There is a portable toilet and a sun shower. Paper towels and toilet paper are provided.
View Photos, Read Reviews & Check Availability
---
3) Tiny House in the Mojave Desert
Where: Jean, Nevada
Price: $110+ per night
Hand crafted with love, this tiny house is located on a working ranch in the middle of the desert. Just 45 minutes away from Las Vegas, this property is great for sleeping under the star-clad sky and waking up to peace and calmness. Take some quiet walks around and stop by to say 'Hi' to the ranch animals. 
This tiny house is well-furnished and features a full bath, a deck, a loft that sleeps 2, and a sofa that sleeps 1. There is a fully furnished kitchen with a stove, a fridge, and basic cookware. There is a seating area for 2 and ample storage for your belongings.
View Photos, Read Reviews & Check Availability
---
4) Tipis by Mustang Monument
Where: Wells, Nevada
Price: $240+ per night
Experience the untamed beauty of the Wild West while glamping in luxury in these 5-star tipis by Mustang Monument. Mustang Monument is a Wild Horse Safari with 30,000+ wild mustangs on a 630k acres ranch. You can choose from a wide range of activities like rock climbing, horseback riding, gun range lessons, feeding the wild mustangs, wine tasting, horse-drawn wagon rides, archery, cooking classes, hiking, etc.
The lavish tipis are furnished with the finest decor and stretch out in 300 square feet of living space with hardwood floors. The tipis feature a king bed with linen, leather and plush chairs, bedside tables, a lantern, a mirror, a cabinet, a radio, and a flashlight. There is a specialized bathroom facility close to the tipis. The all-inclusive package covers food & beverages, housekeeping, and spa & beauty treatments.
Staying at this property is indeed a worthwhile experience!
---
5) Stanley Ranch Glamping
Where: Gerlach, Nevada
Price: $80+ per night
Tucked in the heart of Nevada, and away from the hustle-bustle, this property is great for those looking for a quiet getaway. With incredible views, unforgettable sunsets, and clear skies filled with stars, you are in for memorable glamping in Nevada.
The canvas tent is equipped with a queen bed, a small table, a lantern, a propane heater, and a 5-gallon water jug. There are 2 Adirondack chairs, a camp table, camp benches, a fire pit, a campfire grill, grill tongs, a brush, and a trash can outside. A portable toilet and a sun shower are nearby. Please contact the camp host in case you need ice or firewood.
View Photos, Read Reviews & Check Availability
---
6) Conrad Creek Yurt
Where: Lamoille, Nevada
Price: $175+ per night
If you are looking to hike to the Ruby Mountains, and need a place to stay for the night, this yurt is a perfect option! At an elevation of 7000 ft., this yurt is located in an aspen grove on a private property spreading across 120 acres, with Conrad creek flowing near it.
The 24 feet Pacific yurt is solar-powered, has vehicle access, and is fully furnished. It features a queen bed, pull-out futon, 2 additional cots, 2 couches, a propane oven, a propane cooktop, a propane fireplace, and kitchen accessories. There is a separate bathroom structure for your comfort.
Lamoille Canyon is a 10-minute drive away which is a great spot for hiking, biking, skiing, and fly fishing. South Fork of Humboldt River & South Fork Reservoir is a 35-minute drive away.
---
7) Eagle Feather Tipi in the Mojave
Where: Sandy Valley, Nevada
Price: $108+ per night
Situated on a working dude ranch, 45 minutes away from Las Vegas, Eagle Feather Tipi in Mojave is carefully crafted to suit your needs for a perfect vacation! Whether it's indulging in activities like horse riding, cattle drives, rodeo, and cowboy games, or enjoying time with farm animals, you will be rejuvenated and recharged during your vacation here. Not only that, the evenings here are magical with stunning sunsets and stargazing.
The Tipi is well-furnished with a queen bed, linen, a few tables, a heater during winters, and a swamp cooler during summers. There is a big deck outside where there is outdoor furniture and an outdoor kitchen with a stove, pans, pots, and dishes for some light cooking. An outhouse with a flushing toilet and an outdoor shower with hot water is a short walk away.
---
8) Silver State RV Park Safari Tent Glamping
Where: Winnemucca, Nevada
Price: $151+ per night
If you are looking for a place to go with your family or a group of friends, Silver State RV Park should be on your list. Located just off I-80, and offering breathtaking views of the mountains of northern Nevada, this property offers many modern amenities like wi-fi, a community clubhouse, a fitness center, and a general store.
The Safari tent has one double bed and 2 dorm beds and can sleep up to 4. There is a 3/4th bath inside with a waterfall shower. It has a partial kitchen, a gas BBQ, and a furnished deck with a patio table and chairs.
Take a dip in the pool, ride your bike around the park, or go hiking, biking, and ATV riding on the nearby trails. Visit the town of Winnemucca which boasts of many historic and cultural attractions. Then finally, end your day with a night campfire!
---
9) Glamping Fun with Great Views!
Where: Elko, Nevada
Price: $109+ per night
Offering great views of the Ruby Mountains and the nearby lake, this property is set on 40 acres of public and undeveloped private lands. There are hiking trails and mountain trails around here, where you can run, hike, bike or simply take a stroll.
There are 6 XL camp cots inside with cozy bedding and sleeping bags. Outside, there is a large deck with an outdoor kitchen/BBQ facility and a seating area. Dishes and utensils are provided. There is an outdoor shower (cool water only) and an outhouse (only solids).
---
10) Ruby High Yurt Glamping
Where: Lamoille, Nevada
Price: $186+ per night
Nestled in the Ruby Mountains above the Conrad Creek Ridge, this yurt is at 9,700 feet elevation. You can either hike to the yurt (2-4 hour intense hike) from the parking area at 7,000 feet or get transported via a snowcat (during winters) or a helicopter. Offering views of both Conrad and Talbot creek, this yurt is great for skiing or starting your hike for Ruby mountains.
The yurt is solar-powered and has solar lights and power outlets. The yurt is fully furnished and can sleep up to 4 guests. There is a big living area with comfortable seating and a kitchen with a propane burner stove and cooking gear. There is a propane fireplace for heating the yurt.
---
11) Secluded Tiny House Glamping near Las Vegas – Peacock 
Where: Sandy Valley, Nevada
Price: $120+ per night
This cute tiny house is beautifully decorated with colorful interiors. In addition to a deck just outside the bedroom, there are stairs leading to a terrace. Perfect for stargazing and having some quiet time to yourself. While you are here, you can participate in rodeo events, cattle drives, or try your hands at horse riding.
It has a full bathroom, and a full kitchen with amenities like a stove, a refrigerator, a microwave, pots, pans, and mugs. There is a dining table and a living area with a couch. You sleep on the queen bed in the room in the loft. There are 2 bed tables with lamps and a few windows in the loft.
The property is a 1-hour drive from South Las Vegas. Death Valley, GoodSprings, and Tecopa Hot Springs are nearby.
---
12) Las Vegas Mountain Retreat Glamping
Where: Clark County, Nevada
Price: $239+ per night
Glamp in this 20 feet luxury Zen-themed bell tent on your own private mountain within a National Park! Over 20 endemic species can be found in the Spring Mountains. At an hour's drive away from Las Vegas, and at 6,400 feet, you are away from the heat and noise of the city! The property has access to over 10 miles of nature hikes with amazing views! There is also a 1.5-mile round trip lighted stargazing night hike from the tent.
The tent has a queen bed with a memory foam mattress, a gas heater, fans, a plush sofa bed, 2 plush chairs, and a few tables, along with indoor and outdoor lighting. There are private tent bathrooms and an on-demand shower. There is a fire pit outside with a BBQ grill, smores kit, anti-gravity chairs, a large wooden picnic table, hammock, and a projector. You are bound to have magical evenings and unforgettable glamping in Nevada at this property!
View Photos, Read Reviews & Check Availability
---
Am I Missing Any Nevada Glamping Spots?
Ah! We know we got you thinking about your next vacation. Glamping in Nevada it is! We are glad we could be a small part of your vacation planning. We have amazing recommendations and glamping suggestions for other US states too. Stay tuned!
If you know of any other incredible places for Glamping in Nevada, please do reach out so I can keep this guide as up-to-date as possible!
---
Looking for more Glamping Getaways?
My travel blog is filled with dozens of incredible guides to the best glamping sites in North America (and the world)!  Check out a few of my favorites below and let me know if you've got any questions!
---
Thanks so much for reading my Nevada Glamping Guide!
Share the Glamping Nevada love with your travel crew!